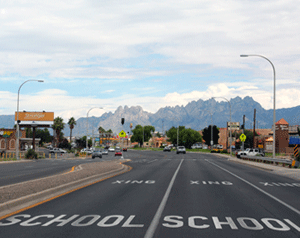 Lohman Ave.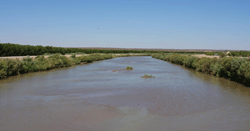 The Rio Grande
City of Las Cruces
Information Directory
Las Cruces Local Airport
Animal Control Services
Assistance Programs
Community Development
Court System
Fire Dept. Number
Health Services
Legal - City Clerk
Libraries in Las Cruces
Museums in Las Cruces
Police Dept. Numbers
Pools in Las Cruces
Recreation Centers
Recycling Locations
Schools in Las Cruces
Senior Centers
Social Security Services
Sports Fields
Transportation - Bus
Utilities - Payment Locations
Veteran's Services
Welcome to Las Cruces, New Mexico!
You may ask, where is Las Cruces???... Well, Las Cruces is located in Southern New Mexico, about 40 miles from El Paso, Texas and the border of Mexico. Here is a map to give you a better idea.
Also known as "The City of the Crosses." Las Cruces is quite a unique city. The sun shines about 350 days of the year and we don't have a lot of the weather related problems that other cities experience. No hurricanes or tsunamis, and if it does happen to snow it usually melts within a day or two. Las Cruces is also relatively safe from tornados and flooding. During the winter months the mighty Rio Grande river is no longer a river, it's turned off like a faucet and is bone dry in most places, so no flooding threat there!
The picture you see at the top of this page is the city of Las Cruces, looking east towards the majestic Organ Mountains. "A" mountain can be seen in the foreground to the right.
Las Cruces has a population of about 100,000 people, with around 200,000 in Dona Ana county. The vast majority of the population being of Hispanic or Latino origin.
The 900-acre campus of New Mexico State University is on the south end of the city. Forbes ranks NMSU 13th in the nation among the best colleges for helping minorities to succeed in the fields of science, technology, engineering and math.
Also on the south end of town is the historical little town of Old Mesilla, just the place to take any visitors, great for shopping as well as dining.
Attractions in Las Cruces include, year-round golf, a nationally ranked Farmer's and Craft's Market, unique festivals and events, art galleries, theatre, excellent wineries, all sorts of outdoor activities and of course some of the best Mexican food in the country!
Wander around this website and you will get a glimpse of everything Las Cruces has to offer.