Friday, September 19, 2014

Beer, Bacon, & Bourbon Music Festival

This is an event geared to showcase diverse beer & bourbons plus unique bacon recipes......it will feature samples included with ticket price, food vendors, live bands, live DJs, sample glassware, & activities such as water pong & corn hole! This is a 21+ event ONLY. Valid State ID is required to enter. 5:00 PM -11:00 PM. Advance tickets are $20 (Includes 5 samples of both beer (1oz) & bourbon (.25oz) for 10 total samples. Available at (Cash Only): Horse N Hound Feed & Supply Store, Boot Barn, Adams's Radio Station, or online at www.180tix.com. Advance tickets will be available at the outlets until 5:00 PM on the day of this event. Tickets will be available at the gate, but advance holders will be honored before walk ins if fire code occupancies are reached.

New Mexico Farm and Ranch Heritage Museum
4100 Dripping Springs Rd.
Las Cruces, NM

Contra Dance

Little Table Contraband will perform. Beginner/Refresher Basic Lessons at 7:30 PM. $6 or $5 for 17 and under. Dance is from 7:30 PM to 10:30 PM.

Mesilla Community Center
2251 Calle de Santiago
Mesilla, N.M.
(575) 522-1691


Dinosaur Talk - Quadrupeds

Dinosaurs invade the museum every week with Dinosaurs A to Z as we explore a new facet of paleontology each week, working our way through the alphabet. Each class includes a discussion of the topic and a hands-on component. 3:00 PM. Free.

Las Cruces Museum of Nature and Science
411 N. Main St.
Las Cruces, NM
(575) 522-3120

Old Mesilla Farmers and Crafts Market

Come stroll through the plaza from 11:00 AM to 4:00 PM.

Historic Mesilla Plaza
Mesilla, NM
(575) 524-3262 ext. 116
Map & Directions to Mesilla

Project Discovery

Come take part in an exciting night of dancing, musical entertainment and conversation about one of New Mexico's state vegetables, the chile pepper. 2-for-1 tickets available before the event at the Pan Am Center box office or by calling 646-1420, General public $15, NMSU employees/retirees with ID $10, NMSU students with ID and children under 18 $5. 7:30 PM.

NMSU Atkinson Recital Hall
1075 N. Horseshoe
Las Cruces, NM
(575) 646-1420

Storytime

Fun and interactive Storytime. We'll be reading from our favorite children's authors, old and new. Join us in our Children's Department for Storytime fun!10:00 AM. Free.

Barnes & Noble
700 S. Telshor Blvd.
Las Cruces, NM
(575) 522-4499

Saturday, September 20, 2014

Animal Encounters - Mammals

Animal Encounters is a chance for a hands-on introduction to the animals in our area. 1:00 PM to 2:00 PM. Free.

Las Cruces Museum of Nature and Science
411 N. Main St.
Las Cruces, NM
(575) 522-3120

Back by Noon Outing - Ladera Canyon

Join outdoor enthusiast Shaunna Foster as she leads us on a 4-mile roundtrip hike into seldom visited Ladera Canyon in the Organ Mountains, now part of the new national monument. If it's been raining enough lately, we'll be rewarded with the sight of a nice waterfall. Long pants recommended. RATING: Strenuous. 8:30 AM. Reservations required, call (575) 522-5552.


Big Daddy's Flea Market

Largest flea market in Southern New Mexico. 6:30 AM to 4:00 PM. Indoor and outdoor vendors. Food available.

5580 Bataan Memorial East
Las Cruces, NM
(575) 382-9404
Map & Directions

Bird Walk

Bird tours at 7:15 AM to 8:15 AM. See what birds are making the rounds in the park by joining in the weekly bird walk. Wear comfortable hiking shoes and bring binoculars. Regular park entrance fee.

Mesilla Valley Bosque State Park
5000 Calle Del Norte
Mesilla, NM
(575) 523-4398
Map & Directions

Children's Science Program - Sky Diver

FETCH! a science program for children. 11:00 AM to 12:00 PM. Dig into science with hands-on activities.

Las Cruces Museum of Nature and Science
411 N. Main St.
Las Cruces, NM
(575) 522-3120

Dog Days

Bring your leashed, four-legged friend to enjoy a walk at the Chihuahuan Desert Nature Park. Talks on dog safety and nutrition, a dog agility demonstration, and a raffle will all be part of this fun event. Free. 10:00 AM to 11:30 AM.

Chihuahuan Desert Nature Park
56501 N. Jornada Rd.
Las Cruces, NM
(575) 524-3334

Election Fest

A celebration of democracy in Doña Ana County. Learn about the general election, enjoy live music with the Derrick Harris Band, the Players and others. Good food, amusement park rides, free laser tag and more. Admission is free. 11:00 AM to 5:00 PM.

Young Park
1905 E. Nevada Ave.
Las Cruces, NM
(575) 647-7428

Family Game Day

From 10:00 AM to noon. Play Jacks, cup and ball toss and put together puzzles. Free.

Las Cruces Railroad Museum
351 N. Mesilla St.
Las Cruces, NM
(575) 647-4480

Farmer's and Crafter's Market

The Las Cruces Farmer's and Crafter's Market is ranked number one in New Mexico and eighth in the nation! Local farmers and craft artists congregate on the downtown mall, every Wednesday and Saturday morning. 8:30 AM - 1:00 PM. Free admission.

Main Street Downtown
Las Cruces, NM
(575) 201-3853

Fermented Food Sampling Event and Kombucha 101

Fermented Food Sampling Event: Join us for our next delicious sampling event! We'll be featuring our new line of fermented Wildbrine krauts, pickles, and kimchi, as well as kombucha, kefir, miso, and more. Learn about the benefits of fermented foods, sample our favorite fermented products, and take home recipes. 11:00 AM to 3:00 PM.

Kombucha 101: Kristina Sutton of the Paleo Blog (www.southofvanilla.com) will review the basics of brewing your own Kombucha. You'll learn the benefits of Kombucha, how to brew at home, and how to flavor your brew. Enjoy Kombucha samples in this class and get a culture (SCOBY) to start your brewing. This class is $6 for Co-op members and $8 for non-members. 2:00 PM to 3:00 PM.

Mountain View Market
1300 El Paseo Rd.
Las Cruces, NM
(575) 523-0436

Gardening Workshop

A Morning of Fall Gardening Prep. Join the Branigan Cultural Center, the Museum of Nature and Science, and Las Cruces Tree Stewards in preparation for your fall and winter gardens with a morning of fun activities for young and old alike. This program is free and open to the public. 10:00 AM to 12:00 PM.

Branigan Cultural Center
501 N. Main St.
Las Cruces, NM
(575) 541-2155

Hike

Join a park ranger at 10:00 AM for a two-mile, two-hour hike at Leasburg Dam State Park. Every week, he'll have a different focus to each hike. Free with paid entry fee to the park.

Leasburg Dam State Park
Leasburg, NM
Map & Directions
(575) 524-4068

Movies in the Park

This week's free movie is: "Captain America the Winter Soldier" Movie begins after 7:00 PM or after dark. Free.

Young Park
1905 E. Nevada Ave.
Las Cruces, NM

Real Men Sing Workshop and Concert

An exciting day of musical exchange for men ages 10-100! Singing, camaraderie, food, and great men's choir repertoire! This wonderful event will close with an informal concert at 4:00 PM. Bring your male soloists, quartets, and choruses! Adults $10 and Middle and High School singers $5. 10:00 AM to 5:00 PM.

Atkinson Recital Hall NMSU
1075 N. Horseshoe
Las Cruces, NM

Roller Derby

Full-Contact Roller Derby in action! It's the CCD Sucias vs the Pueblo Derby Devil Dollz - Jailhouse Jawbreakers! Doors open at 7:00 PM. Game starts at 8:00 PM. Tickets are $8. Kids 12 and under free entry with paying adult. Tickets available at: The Bean, any CCD Member, or at Meerscheidt Recreation Center, Tuesdays, Wednesdays &
Fridays 6:45 PM to 8:45 PM.

Meerscheidt Recreational Center (rink in back)
600 E. Hadley Ave.
Las Cruces, NM

Southwest Photographic Symposium

A one-day event for photographers of all levels, hosted by the Doña Ana Photography Club. Topics include: Photo Editing, Portrait Photography, Printing, Critiquing Images, Macro Photography, B & W Photography and more. Your fee includes, a chance to win an iPad Mini, a Free box lunch, a 4GB flash drive packed with class notes, e-books and videos galore. Cost is $60. 8:00 AM to 6:00 PM.

Rio Grande Preparatory Institute
2355 Avenida de Mesilla
Las Cruces, NM
(575) 546-9233

Racing

ASCS Winged Sprint Cars, USRA Street Stocks, USRA Limited X-Mods and Legends Cars. Gates open at 5:30 PM and racing begins at 7:45 PM. Admission is $10 and children 10 and under are free. Take I-10 west to Exit 132, turn left (over bridge) to the frontage road, turn right to the fair grounds and follow the road behind the fair pavillion to the action.

Southern NM Speedway
10263 Robert Larson Blvd.
Las Cruces, NM
(575) 524-7913
Map and Directions

Star Program

An evening of star gazing. The planet Mars is bright and low on the western horizon. Our sister galaxy, Andromeda, is rising in the northeast and the summer Milky Way is here! Regular Entrance Fee. 8:00 PM to 9:45 PM.

Mesilla Valley Bosque State Park
5000 Calle Del Norte
Mesilla, NM
(575) 523-4398
Map & Directions

Storytime

Join us for Curious George's Curiosity Day. Let's celebrate our favorite mischievous monkey with stories, activities and giveaways. 11:00 AM. Free.

Barnes & Noble
700 S. Telshor Blvd.
Las Cruces, NM
(575) 522-4499

Storytime

Listen to a Thomas the Tank Engine book, and enjoy a Thomas video while completing a related free craft activity. Children of all ages welcome. 11:00 AM to 11:30 AM. Free.

Las Cruces Railroad Museum
351 N. Mesilla St.
Las Cruces, NM
(575) 647-4480

Storytime

Family Story and Art Journey from 11:00 AM to 12:00 PM. After storytime, walk through the Museum of Art for a story related art activity. Free.

Museum of Art
491 N. Main St.
Las Cruces, NM
(575) 541- 2137

Theatre

The Fusion Theatre Company presents, "Outside Mullingar" It's a romantic comedy featuring two eccentric souls, "Rosemary" and "Anthony". They stumble and bumble toward love and passion while in the froth of a neighborly feud over a piece of land the size of a postage stamp. Set in contemporary Ireland, Shanley plays with the heartache and hilarity that only families can conjure up as they vie for love and respect. Tickets are $23.50 to $32.50. 7:30 PM.


Rio Grande Theatre
211 N. Main St.
Las Cruces, NM
(575) 523-6403

Sunday, September 21, 2014

All Aboard for Art Fundraiser

The West End Art Depot presents a Gala Fundraiser. Performances by Yoeme Jazz Trio & Radio La Chusma and Live Art, Silent Auction and Live Art Auction. Cash bar available for local wine & beer. Tickets $25 pre-sale ages 18+ / $30 at the door. Dinner & non-alcoholic beverages included.

Rio Grande Theatre
211 N. Main St.
Las Cruces, NM
(575) 523-6403

Big Daddy's Flea Market

Largest flea market in Southern New Mexico. 6:30 AM to 4:00 PM. Indoor and outdoor vendors. Food available.

5580 Bataan Memorial East
Las Cruces, NM
(575) 382-9404

Concert - Rockin' on the Bosque

Come and enjoy live music as the sun sets in a beautiful, relaxed outdoor atmosphere. The Morgan Brothers Band will play a great mix of blues and rock and the Rio Grande Ramblers will play some folk and Americana. A great music concert to be enjoyed by all generations. So, pack a picnic dinner/snack and your favorite beverages (adult varieties allowed without glass containers) and for the price of the park entrance fee a wonderful late Sunday afternoon can be had by all. Regular entrance fee .

Mesilla Valley Bosque State Park
5000 Calle Del Norte
Mesilla, NM
(575) 523-4398
Map & Directions

Theatre

The Fusion Theatre Company presents, "Outside Mullingar" It's a romantic comedy featuring two eccentric souls, "Rosemary" and "Anthony". They stumble and bumble toward love and passion while in the froth of a neighborly feud over a piece of land the size of a postage stamp. Set in contemporary Ireland, Shanley plays with the heartache and hilarity that only families can conjure up as they vie for love and respect. Tickets are $23.50 to $32.50. 2:00 PM.


RioGrandeTheatre
211 N. Main St.
Las Cruces, NM
(575) 523-6403

Monday, September 22, 2014

Talk - A Geographer's Way of Understanding the World

Presented by Regents Professor of Geography at NMSU, Dr. John Wright. Coffee and cookies will be served. $4 for members and $5 for non-members. 10:30 AM to noon.

Good Samaritan Auditorium
3011 Buena Vida Circle
Las Cruces, NM
(575) 522-6512

Tuesday, September 23, 2014

Dance

Argentine Tango de Las Cruces. Daniel Haverporth will teach a class from 6:30 PM to 7:15 PM. Dance is from 7:15 PM to 9:30 PM. $5. NMSU students free with ID.

Mesilla Community Center
2251 Calle de Santiago
Las Cruces, NM
(575) 620-0377

Dance Lessons

Free Tuesday Night Community Dance Lessons. A great way to learn many Ballroom, Latin, and Swing dances, featuring different dance patterns each week. In no time, you will find yourself social dancing. Great for date night! 7:00 PM. Free.

Rentfrow Gymnasium - NMSU campus
Corner of Williams and Stewart
(575) 646-4067

Drawing and Painting Class

Beginning to advanced drawing and painting class. Classes taught by art educator Wayne Carl Huber. $40 and bring your own supplies. 1:00 PM to 3:30 PM.

My Place Jewell
132-B Wyatt Dr.
Las Cruces, NM
(575) 647-5684

Wednesday, September 24, 2014

Farmer's and Crafter's Market

The Las Cruces Farmer's and Crafter's Market is ranked number one in New Mexico and eighth in the nation! Local farmers and craft artists congregate on the downtown mall, every Wednesday and Saturday morning. 8:30 AM - 12:30 PM. Free admission.

Evening at the market tonight from 5:00 PM to 9:00 PM. WIth live music by Little Table Contraband and Cherry Red along with aerial dancing.

Main Street Downtown
Las Cruces, NM
(575) 201-3853


Farm Volunteer Days

Interested in organic farming and local food production? Want to find out more about vermiculture, composting, laying hens, season extension, and crop planning for our region? Come and volunteer. From 8:30 AM to11:30 AM.

MVM Farm
2653 Snow Rd.
Mesilla, NM
575-523-0436
Map and Directions

Open Mic

Come join us for Open Mic performances from from 7:00 PM to 11:00 PM.

Sweet CeCe's Frozen Yogurt & Treats
901 E. University Ave.
Las Cruces, NM
(575) 323-3628

Open Mic

Hosted by Jules Ripps & the Dirt Dogg. All musicians welcome. 7:00 PM to closing.Come enjoy the fun!

Q's Brewhouse
1300 Avenida De Mesilla
Las Cruces, NM
(575) 571-4350

Toddler Time

Stories, Songs and Finger plays for little ones. Ages 1-3. 10:00 AM. Free.

Branigan Memorial Library
200 E. Picacho Ave
Las Cruces, NM
528-4073 ext. 4225

Thursday, September 25, 2014

Cooking Class

Eat Smart Live Well - Immune Boosters Cooking Class: Jennifer and Mo will lead a cooking class featuring easy and delicious ways to boost your immune system, including how to create your own fire cider tincture. Don't forget to attend the corresponding Wellness Class the Thursday prior. Classes are free for members and $3 for non-members.

Mountain View Market
1300 El Paseo Rd.
Las Cruces, NM
(575) 523-0436

Dance

Big Band Dance Club. Ballroom, country, swing and Latin style dancing. Live Music. Dance lessons at 7:00 PM. Dancing runs 8:00 PM to 10:00 PM. $7 for members, $9 for non-members.

Court Youth Center
402 W. Court Ave.
Las Cruces, NM
(575) 526-6504

Old Mesilla Farmers and Crafts Market

Come stroll through the plaza from 12:00 PM to 4:00 PM.

Historic Mesilla Plaza
Mesilla, NM
(575) 524-3262 ext. 116
Map & Directions to Mesilla

Painting Class

Intermediate and advanced painting. Watercolor, acrylic and water-soluble oil painting classes taught by art educator Wayne Carl Huber. 1:00 PM to 3:30 PM. $50 for four two and a half hour sessions.

My Place Jewell
132-B Wyatt Dr.
Las Cruces, NM
(575) 647-5684

Toddler Time

Stories, Songs and Finger plays for little ones. Ages 1-3. 10:00 AM. Free.

Branigan Memorial Library
200 E. Picacho Ave
Las Cruces, NM
(575) 528-4000

Coming Soon
Saturday, September 27, 2014

Buffalo Roast

Human Systems Research presents their 4th Annual Buffalo Roast Fundraiser. Dinner, cash bar, silent auction and live entertainment. $40 per person and reservations must be made by September 22 due to limited seating. 5:00 PM doors open, 5:30 to 7:00 PM Dinner, 7:15 PM talk by Karl W. Laumbach on "Albert Fountain & the Spiderweb Trail." For more info and tickets call, (575) 524-9456.

New Mexico Farm and Ranch Heritage Museum
4100 Dripping Springs Rd.
Las Cruces, NM
Ongoing Events in Las Cruces
**CONTEST**
New FREE Giveaway Every Week!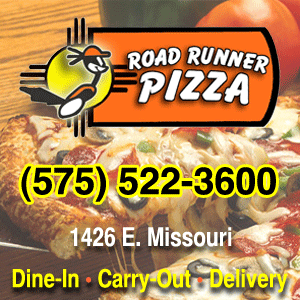 Scenic Helicopter Fun Flights
Scenic Helicopter Fun Flights from Santa Teresa Airport Sunday, September 28, 10:00 AM - 5:00 PM. These are approx. 20 minute flights. $195.00 per person. Morning flights include hot coffee/tea/ hot chocolate and fresh pastries, midday flights include fresh fruits and cold drinks. Complimentary wine as well. Book your Fun Flight here!
Film
"Frontera"
September 19 - September 24, 2014
A 2014 American drama film directed by Michael Berry. The film stars Eva Longoria, Michael Peña, Ed Harris and Amy Madigan. On the border between the U.S. and Mexico, Pena's character crosses the border illegally for work but is then wrongfully accused of murdering the wife of a former sheriff (Harris). When his pregnant wife (Longoria) tries to come to his aid, she lands in the hands of corrupt coyotes who hold her for ransom. English.
Showings nightly at 7:30 PM, Saturday Matinee at 1:30 PM, Sunday Matinee at 2:30 PM. Admission: Regular $7.00
Matinees, Seniors over 60, Military, and Students w/ ID $6.00. Members are free and Wednesdays are $5.00.
Fountain Theatre
2469 Calle de Guadalupe
Mesilla, NM
(575) 524-8287

Gallery Exhibit
"Evolution of Photographic
Printing Mediums"
Main Street Gallery and Big Picture present fine art photographer Don Boyd featuring his stunning images and the evolution of photographic print mediums in this September exhibit. "With all the attention on digital photography equipment and digital image processing, less noticed are the changes in printing mediums". In addition to traditional prints on photographic papers, Don will also exhibit images printed on French-made watercolor paper, face-mounted acrylic, canvas, aluminum and silk.

The exhibit continues through the month of September. Gallery hours are Tues. - Fri. 10-5, Sat. 9:30-1:30.
Main Street Gallery and Big Picture
311 N. Main St.
Las Cruces, NM
(575) 647-0508
Exhibits
September 5 – September 27
blown: paintings by rwmullenix
Ohio mixed-media landscape artist Robert Mullenix exhibits works that reflect a dual interest in photography and painting, and use metaphor to gain an understanding of the unknown in the form of the known.
J.W. Fike's Photographic Survey of the Wild Edible Botanicals of the North American Continent
Jimmy Fike's photographs present a life-sized illustration of a single plant hovering above an infinite black expanse with the edible parts rendered in color, and are vitally relevant to issues of sustainability.
Distorted Senses of Proportion – Rachel Abrams
Brooklyn artist Rachel Abrams' installation of drawings and sculptures that address invasive species we choose to introduce to our environments for their inherent beauty, but pose a danger for the ecological balance of the future.
Branigan Cultural Center
700 N. Main Street
Las Cruces , NM
(575) 541-2000

Exhibit:

Bonnie Mandoe:
NM Land & Landscapes
Thirty-six oil paintings that capture the beauty of New Mexico's land are featured in this new exhibit. Las Cruces artist Bonnie Mandoe's "New Mexico Land & Landscapes" will be on display in the Museum's Arts Corridor through Nov. 30. "Of all the things I love to do, painting New Mexico tops the list," said Mandoe. "Desert, forest, planted fields…. lakes, mountains, rivers, churches, colors, extraordinary light. Here, you see what I can't say with words, my heart's vision of the place I love." Museum hours: Monday through Saturday: 9:00 AM to 5:00 PM. Sunday: Noon to 5:00 PM.

NM Farm & Ranch Heritage Museum
100 Dripping Springs Road
Las Cruces, NM
(575) 522-4100
White Sands National Monument
Sunset stroll
A leisurely one-hour, ranger-guided sunset stroll through the sand dunes. Learn about the geology, plants and animals of White Sands National Monument. About five miles from the visitor center on Dunes Drive. Offered daily one hour before sunset. Stroll is free, but monument entrance fees apply. 6:45 PM.
Skins & Skulls
Did you know that 44 different species of mammals live at White Sands?
Join rangers at 3:00 PM every Saturday and Sunday in the visitor center courtyard for a 20-minute talk about these amazing animals. Rangers will have pelts, skulls, and other props to provide you an up-close look and feel of the elusive wildlife of White Sands. There is no charge for the program.
Art Classes at the Museum of Art
Registration for fall art classes at the Las Cruces Museum of Art is now open! The new session kicks off on Tuesday, September 2 and ends the week of December 13. A complete class schedule and registration forms are available for viewing and download at this link.

Offerings include ceramics for adults at four levels (beginner, intermediate, advanced, and independent) and a new class in watercolors, a drop-in painting technique/critique class, a glass fusing experience, as well as two classes for both public and homeschooled children in mixed media and ceramics.

Most classes at the Las Cruces Museum of Art run evenings or Saturdays, and fees vary based on duration and medium. Children's classes are $60 and adult classes run between $75 and $110. Registration fees may be paid with credit card, check, or cash.

Registration for studio classes may be done in person from 9:00 AM am to 4:30 PM, Tuesday through Saturday, or forms and fees may be mailed.

Las Cruces Museum of Art
491 N. Main Street
Las Cruces, NM
(575) 541-2137